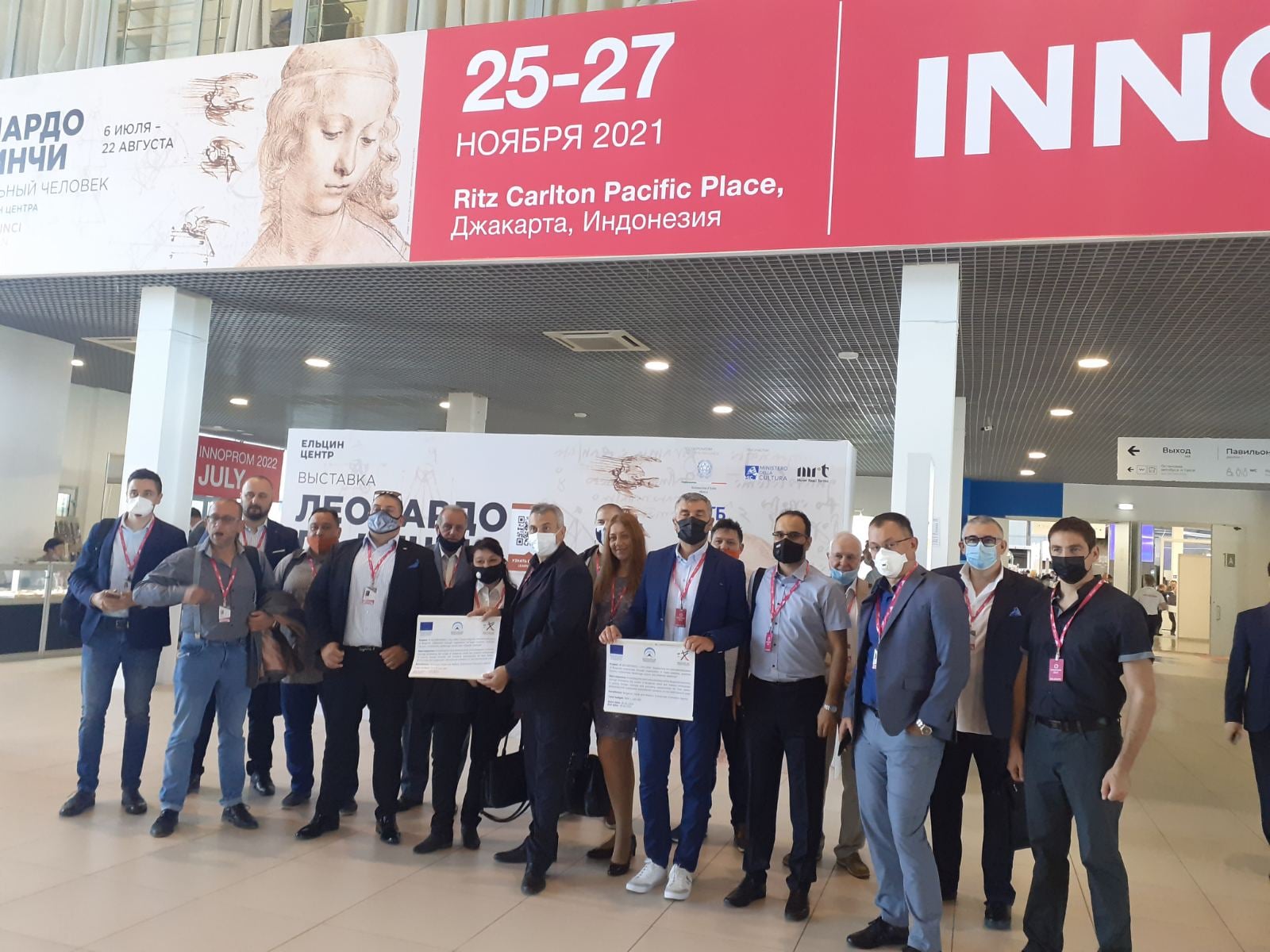 20 Bulgarian SMEs participated in a trade mission to visit the International Industrial Exhibition INNOPROM in Ekaterinburg
05.01.2022
Representatives of 20 Bulgarian small and medium enterprises in the industrial sector participated in the trade mission organized by BSMEPA to visit the International Industrial Exhibition INNOPROM 2021, which took place in the period 05-08.07.2021 in Ekaterinburg, Russian Federation. Among them was Silvia Kabaivanova, manager of FASHION.BG Ltd. and Vice Chairman of the Bulgarian Digital Cluster.
Since 2010, the INNOPROM exhibition has been held annually and is the main industrial, trade and export platform supported by the Ministry of Industry and Trade of the Russian Federation. About 80% of the visitors of the exhibition are professional buyers from all over the world and specialists from industrial enterprises who make decisions for the introduction of new products and technologies in production. During the event, companies had the opportunity to take part in thematic discussions on the future of global and Russian industry with a number of representatives of the public and private sectors of Russia, as well as to enter into direct B2B communication with international manufacturers from Europe, Asia, USA and others.
The new directions for the development of the event in 2021 are industrial information technology, communication systems and technology for machines, and the participants in the mission are representatives of the sectors ICT, metallurgy, mechanical engineering and others – Water Fuel Engineering, Tech Center Nomat, Optexim, Scortel , Balkancar Records, Vladster, Step Soft, VIP Software, ZIIU Standart, SmartTech Systems, Fashion.BG, Scitronic, Till Industrial Gabrovo, Rapid Progress, Va Consult, Promel Sevlievo, Muplex Technology, ZIMP Montana, BIRD 2, Polymex holding. In addition to visiting the exhibition, the program of the trade mission included a meeting with Mr. Plamen Pekov, Consul General of the Republic of Bulgaria in Ekaterinburg, and Mr. Tsvetan Boyadzhiev, Head of STIV in Ekaterinburg, as well as a working meeting with Mr. Andrey Kozlov, Vice-Chairman of the Ural Chamber of Commerce and Industry. The event was organized in the implementation of activity 1 "Organization of trade missions abroad" under project BG16RFOP002-2.052-0001 "Support for the internationalization of Bulgarian enterprises through trade missions, business forums, conferences, contact exchanges and bilateral meetings", funded by The European Regional Development Fund through the Operational Program "Innovation and Competitiveness" 2014 – 2020, for which BSMEPA is an institutional beneficiary.