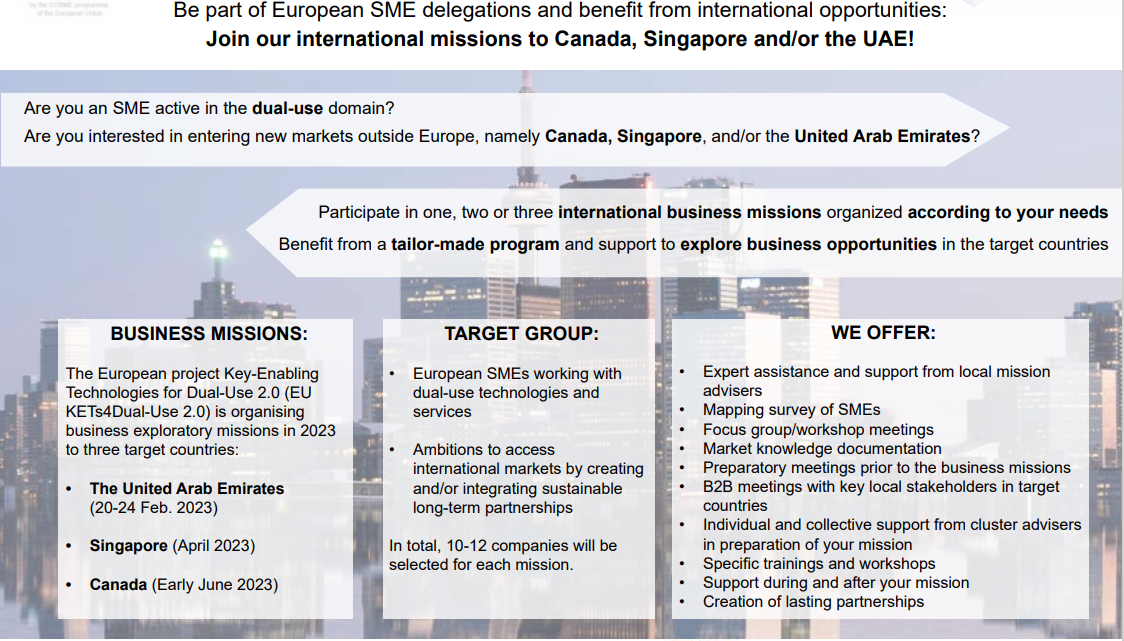 Business missions for European SMEs with a dual-use technology, product or service
28.11.2022
Extended registration deadline – 1 December 2022!
Join the business mission to the UAE on 20-24 February 2023 – Apply no later than 1 December 2022!
It is also possible to sign up for later missions to Singapore (in April 2023) and Canada (in June 2023).
The EU KETs4Dual-Use 2.0 consortium is arranging business missions for European SMEs with a dual-use technology, product or service, and who are ready to internationalize!
The main goal of the business missions is to identify potential partners and clients for your company in the three target countries. By participating in one or more business missions your company will benefit from a tailor-made program and support to explore business opportunities in the target countries.
In relation to and during the business missions we offer you:
• Expert assistance and support from local mission advisers
• Mapping survey of SMEs
• Focus group/workshop meetings
• Market knowledge documentation
• Preparatory meetings prior to the business missions
• B2B meetings with key local stakeholders in target countries
• Individual and collective support from cluster advisers in preparation of your mission
• Specific trainings and workshops
• Support during and after your mission
• Creation of lasting partnership
Application deadline is 1 December 2022!
You can read more about why you should apply and selection criteria via this link (also sign up link): https://censec.dk/wp-content/uploads/2022/11/Business-missions_extended…
Cluster organization