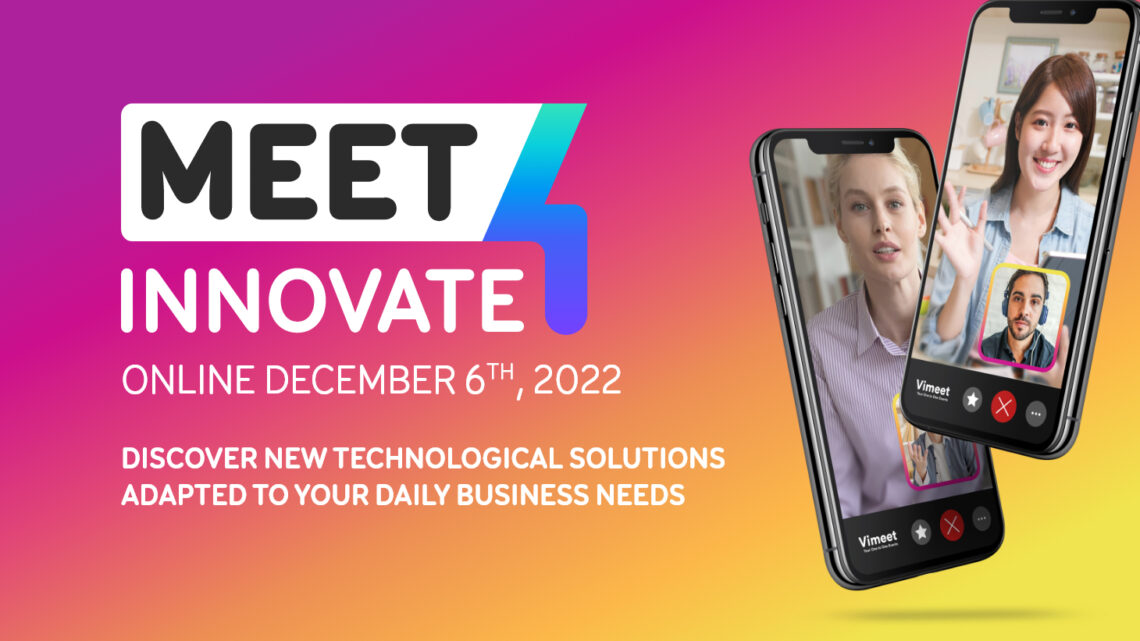 Meet4Innovate – business convention that guides you through the path of digital transformation
24.11.2022
On December 6th, in addition to the business meetings, Meet4Innovate offers you the opportunity to attend webinars.
The programme:
👉🏻 The digitalisation of business activity following the health crisis context: what are the challenges ?
👉🏻 Fostering cooperation towards science, technology and innovation between Latin America & the Caribbean and Europe
👉🏻 A common language to ease data exchanges !
👉🏻 No-code & low-code for mobile applications
Meet4Innovate is the business convention that guides you through the path of digital transformation and in finding solutions to face two major challenges:
➡️ Cybersecurity strengthening.
➡️ Mastering the new technologies: cloud, big data, artificial intelligence, social networks, 3D printers, robotics, blockchains, virtual reality, metaverse, management tools etc…
Meet innovation actors gathered during more than 1,000 qualified, scheduled and dematerialised one-to-one meetings.
⚠️ Our members benefit from a 30% discount => Ask for your discount code !
➡️ More information: https://www.meet4innovate.com/en/
➡️ Visit the participants' catalogue in comments and consult the tariffs
Organised by: @PROXIMUM 365 and @Vimeet
Partners: @Bulgarian Digital Cluster, @Latvian IT Cluster / DIH, @ENRICH in LAC, @Medinsoft, @Pôle TES, @Finance Innovation, @FRANCE INNOVATION, @Bit Alliance, @atim cluster, @Digital Bay
Sponsors : @Threedee World, @METSYS, @INEVO, @Winnotek, @TKM – TecKnowMetrix, @K2LIS
➡️ Catalogue of participants: https://meet4innovate.vimeet.events/en/list
➡️ Register here: https://meet4innovate.vimeet.events/en/question/381
➡️ Tariffs: https://www.meet4innovate.com/en/info.php#pricing