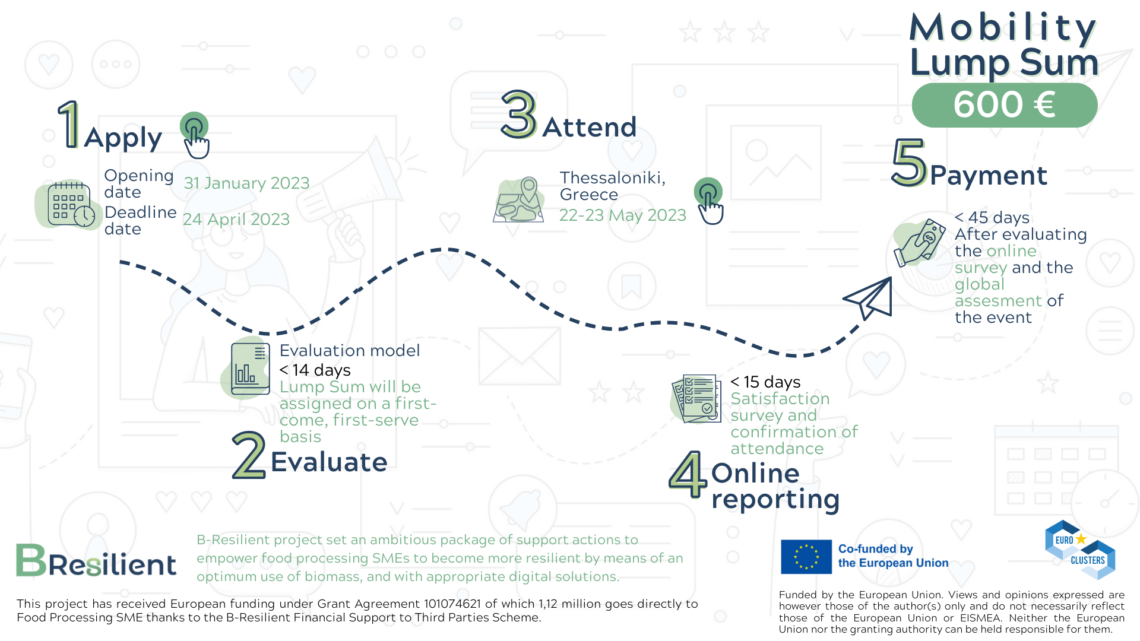 Mobility lump sums for building the biomass resilience of food producing and processing SMEs through green and digitalised value chains
23.02.2023
The B-Resilient Euroclusters Project has set an ambitious package of support actions to empower food processing SMEs to become more resilient by means of an optimum use of biomass, and with appropriate digital solutions. The project will focus on maximising the usage of available feedstock and its subsequent valorisation of side streams into innovative bio-based ingredients. B-Resilient project is built on a zero-waste and circular concept, improving the competitiveness of food processing SMEs from an environmentally sustainable perspective.
B-resilient is organising cross-sectoral, cross-border matchmaking/business events for SMEs with different innovation actors in Biomass Resilience supported by lump sums for travelling costs (EUR 600 per SME).
The first Challenge and Innovation event, Bioeconomy & Food Biowaste Investment Brokerage Event, co-organised with Model2Bio, BioeconomyVentures and EIT Food, will be celebrated in Thessaloniki (Greece) on 22 and 23 May 2023.
Participants that want to receive the aid, which is assigned on a first-come first-serve basis, need to follow this application process.
For selected SMEs, a contract should be signed.
For further details, please, contact: Blandine FORTIN (email: b-resilient.vouchers@i4ce.eu)
Applications are open until 24 April 2023. Apply here.